Security & Defence
Explosives experts concludes drone in MV Mercer Street attack came from Iran
The US military's Central Command has announced the results of its forensic investigation into last week's fatal drone attack on a merchant tanker off Oman, The BBC reports.
It says explosives experts concluded that the Unmanned Aerial Vehicle (UAV) was produced in Iran. The evidence has been shared with explosives experts in Britain and Israel who concurred with the findings.
The attack on the Israeli-operated MV Mercer Street killed two people.
A British security guard, military veteran Adrian Underwood, and the ship's Romanian captain lost their lives as the ship sailed past the Omani island of Masirah.
Britain, the US, Israel and Romania, were quick to blame Iran which has denied any involvement. It said if there was any proof then it should be made public.
Now a statement from Centcom has shed some light on what it says its investigation has revealed.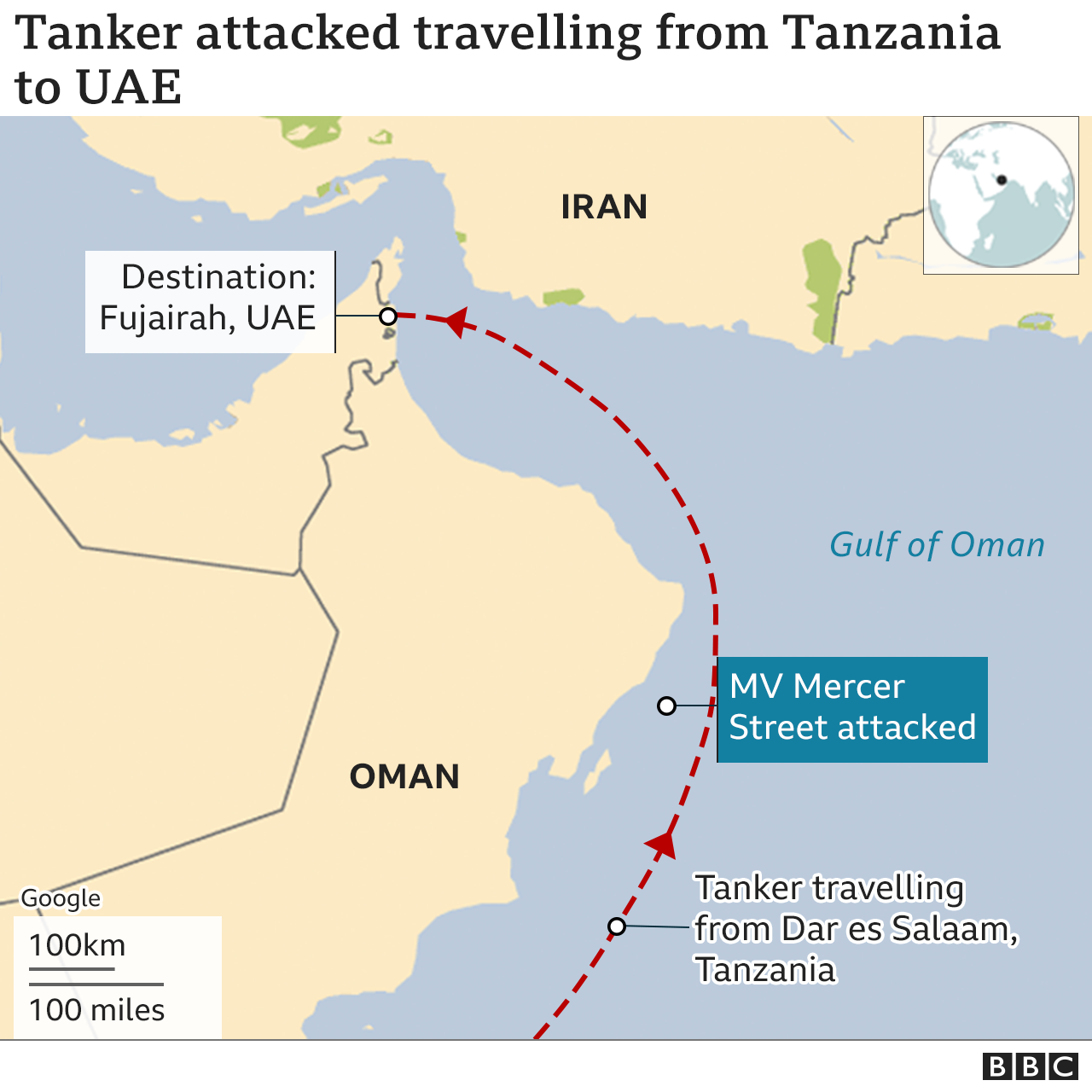 Throughout the past week an explosive investigations team from the US Navy's aircraft carrier the USS Ronald Reagan has been examining the evidence left behind by the drone attack. After interviewing the survivors and studying the explosive residue they have concluded that the ship was targeted by three drones in all.
The first two, launched at the ship on the evening of Thursday 29 July, missed their target. But the third drone, launched early on Friday 30 July and loaded with a military grade explosive, hit the pilot house and exploded, killing the two men and leaving a 2-metre diameter hole.
---
Israel accuses Iran over attack on oil tanker MV Mercer Street which left two dead
Iran "is prepared to respond promptly to any threat against its security", Tehran warns West
---
Investigators say explosive chemical tests had identified the residue as RDX, a nitrate-based explosive, indicating that the UAV was rigged to cause injury and destruction.
The investigators also recovered part of the drone's wing and after further testing they concluded that the drone was produced in Iran. A joint statement issued by all the G7 nations on Friday condemned Iran's actions and said its actions threatened peace and stability.
We, the G7 Foreign Ministers of Canada, France, Germany, Italy, Japan, the United Kingdom and the United States of America and the High Representative of the European Union stand united in our commitment to maritime security and the protection of commercial shipping. We condemn the unlawful attack committed on a merchant vessel off the coast of Oman on 29 July, which killed a British and a Romanian national. This was a deliberate and targeted attack, and a clear violation of international law. All available evidence clearly points to Iran. There is no justification for this attack.
Iran and Israel have been engaged in an undeclared and so-called "shadow war" for some time now.
Israel is widely assumed to be behind a series of sabotage acts on Iran's nuclear programme, including the assassination of key scientists. It has also attacked Iranian ships suspected of carrying oil to Syria that is destined for Iran's militia ally in Lebanon, Hezbullah.
Iran has been targeting Israeli-linked shipping with limpet mines, something which the Iranian Revolutionary Guards Corps train intensively for. But last week's deadly drone attack marked a major escalation, killing some of those onboard and dragging in a major western power.
Days later there was a second attack on shipping with armed men briefly seizing control of another merchant tanker, the MV Asphalt Princess, before leaving it to go on its way.
The incidents come at a time of heightened tension in the region as the new, hardline President Ebrahim Raisi takes power in Iran and talks aimed at reviving the moribund deal to curb Iran's suspect nuclear programme falter in Vienna.
Follow EU Today on Social media: